Hlavní obsah stránky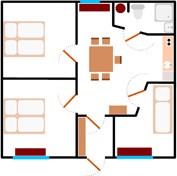 The luxurious cottage is fully reconstructed, equipped with a shower cabinet with WC and a washbasin, kitchenette with a sink, a cooker, a set of utensils, a high-speed electric kettle and refrigerator, common sitting and 3 separate bedrooms (2 + 2 + 1, double beds are connected).
Kitchenette:
- Fitted kitchen
- Electric cooker
- Utensils
- Refrigerator with freezer

Bathroom:
- WC
- Shower cabinet
  (newly reconstructed)

Spatial arrangement:
- 3 x bedrooms
- 1x social room


Night

price

/

cottage

price

/ room 1

1
1.700 Kč
900,- Kč



Attention

discount!
At the stay longer than 3 nigths we grant a discount of 20 %, which will be seen in the bill at the order finish. 
Contact form